Reconnecting the SCI Community with
The Great Outdoors
Able Bodied Experiences for ALL
Our Mission:
Provide able bodied experiences to those that may have lost it due to a Spinal Cord Injury (SCI).
Our Background:
We are a group of life loving adventure seekers hoping to share our love of the great outdoors with the SCI community by making electric assist handcycles available for free. In partnership with
NorCal SCI
, we are a donation driven service based in San Jose CA.
Patient 0:
Wojtek was injured in a road bike accident in 2015 and became a complete T5 paraplegic. He tried handcycling, but never ventured beyond his local bike path on rides no longer than 10 miles. In March 2020 he and his son built a new electric assist handcycle with a direct drive motor that enabled him to enjoy road biking in its full glory. Wojtek started biking up 3,000+ foot climbs with his son and 50+ mile rides with his wife and his old road bike friends. He biked over 2,000 miles and climbed over 100,000 feet in the remaining 9 months of 2020. Electric assist handcycling is the first activity Wojtek has done where he feels truly able bodied, a feeling he wants to share with the rest of the SCI community. 
Book an e-assist Handcycle Lesson for free
Handcycling is a great way to explore the outdoors as the three large wheels give you an ability to roll a lot easier and a lot quicker than you could in a wheelchair. Add in an electric motor, which amplifies your strength as much or as little as you want, and the world is once again your oyster. Our all-wheel drive "beast mode" handcycle can even go up ski runs or up sandy/rocky fire roads.
We currently have two handcycles and are trying to bootstrap this program out of a private residence (map here), so realize availability may be limited and be prepared to ride on streets with cars. 
During your lesson you will transfer the e-assist handcycle you see in all the pictures above and we will go for a ride around the neighborhood. We have a specially built shed that helps make transfers easier (video). Generally the first ride is somewhere between 30 minutes and an hour, but once you become comfortable on the bike, longer rides are where the fun begins. Our "epic ride" includes a 17 mile ride to Los Altos, where they have some excellent pizza…
If you click on the "book lesson" link below you can request a reservation slot and we will follow up with instructions on how to proceed.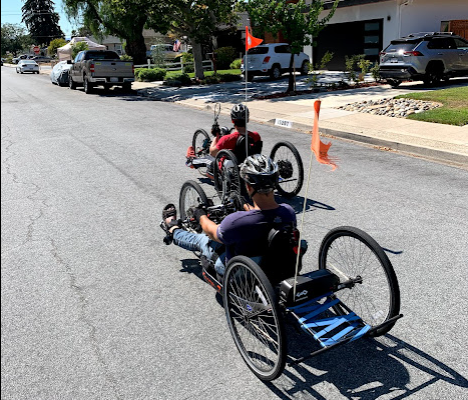 Intro Ride
5 miles (~30 minutes)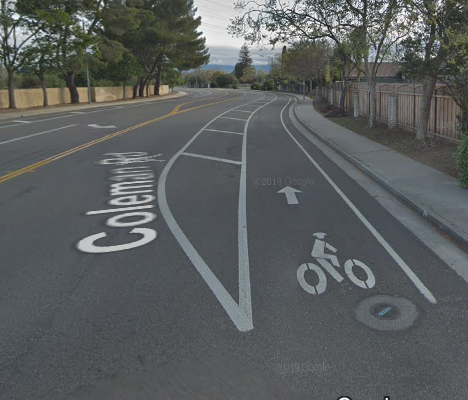 Short Bike Ride
13 miles (~1.5 hour)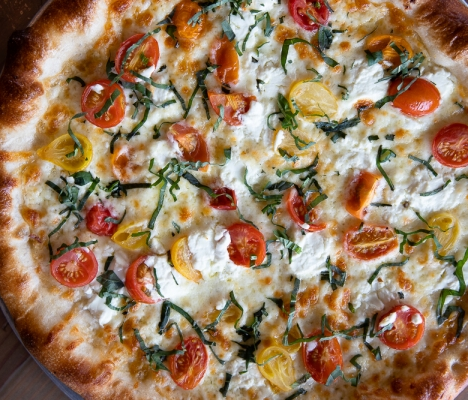 Epic Los Altos Ride
36 miles (~4 hours)
Solid ride down streets with wide shoulders or bike lanes to Los Altos. Pizza picnic in Village park (rider buys own pizza)
If you want to try handcycling and do not mind making a trip to Berkeley CA, there is a great adaptive cycling center (which inspired this program) called BORP. They have a large collection of handcycles and can accommodate a lot more users.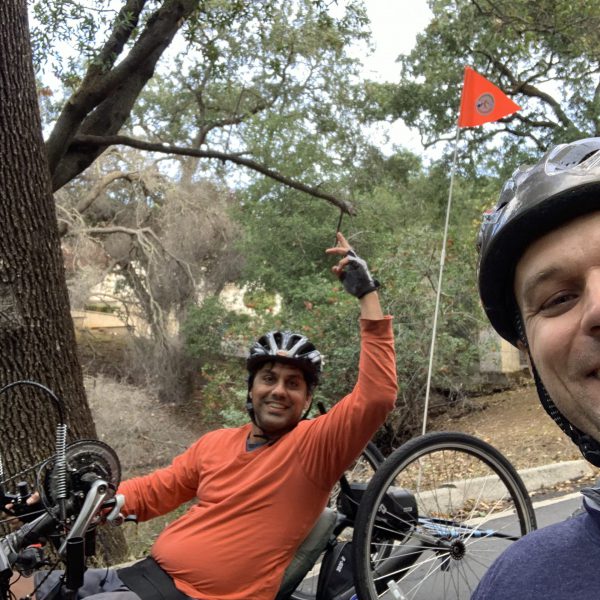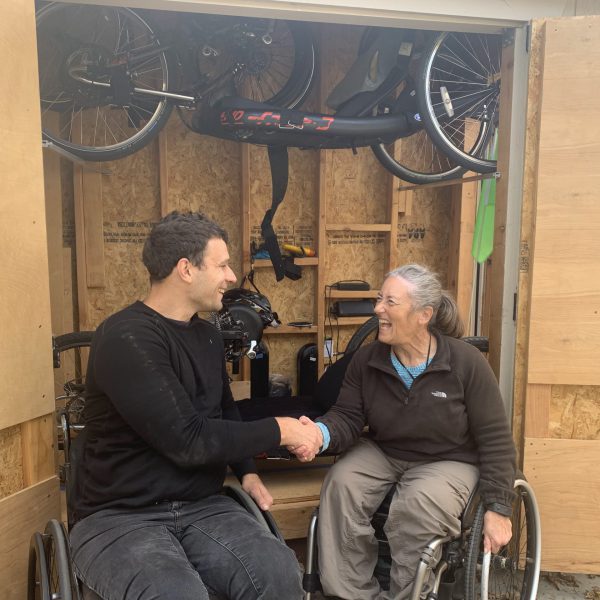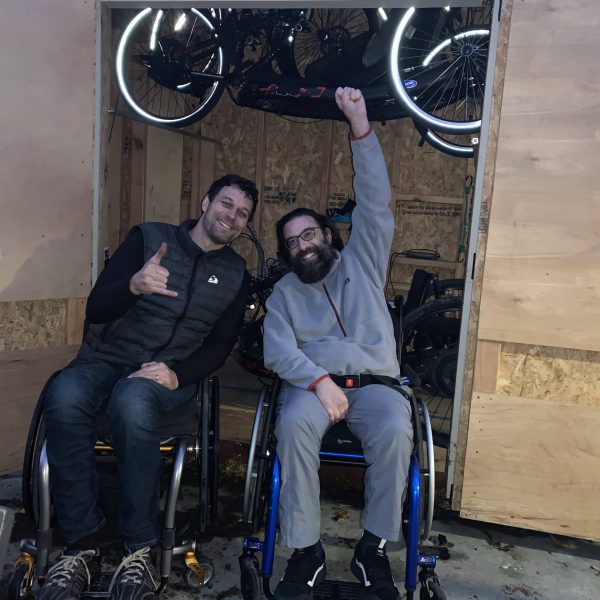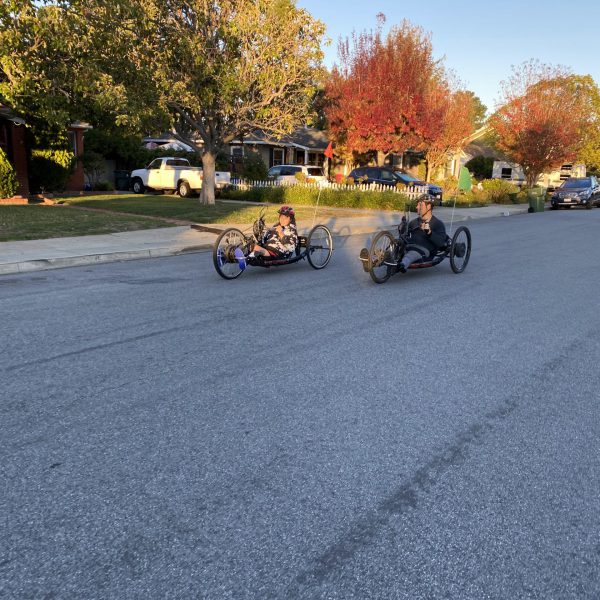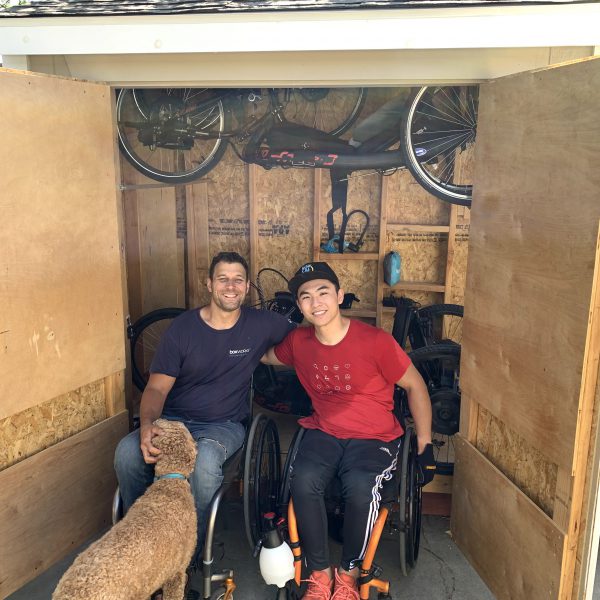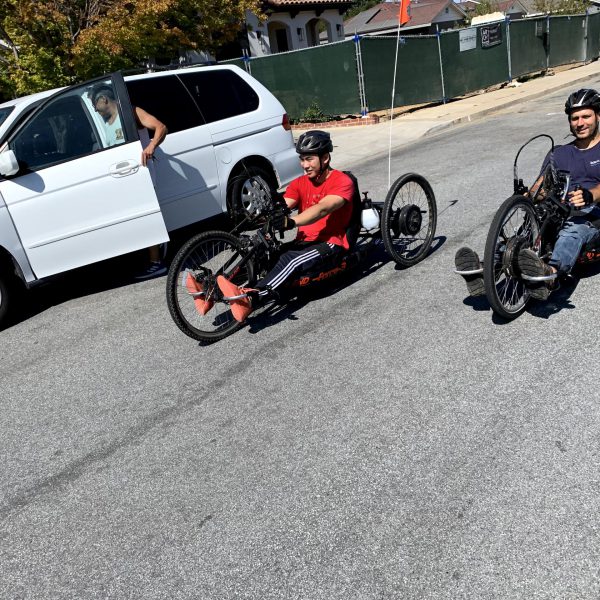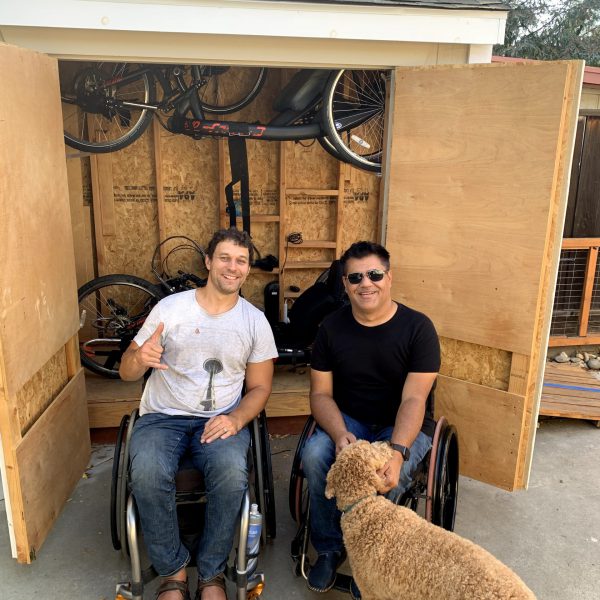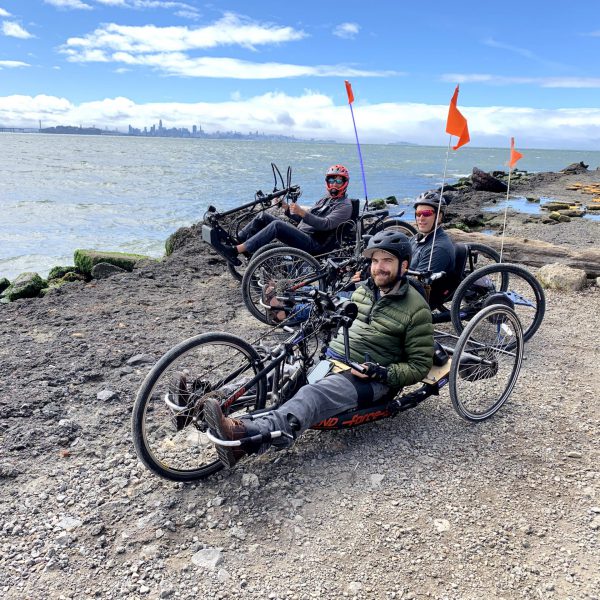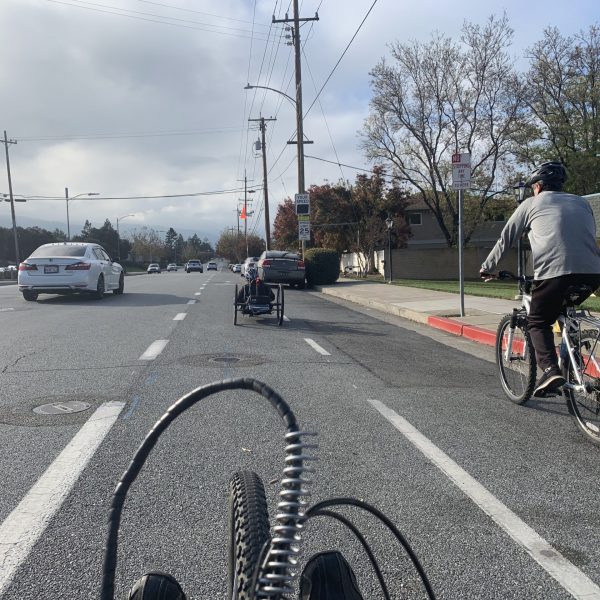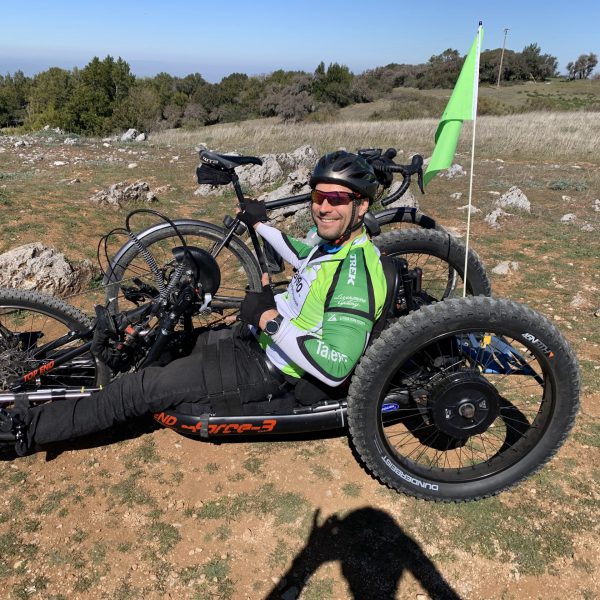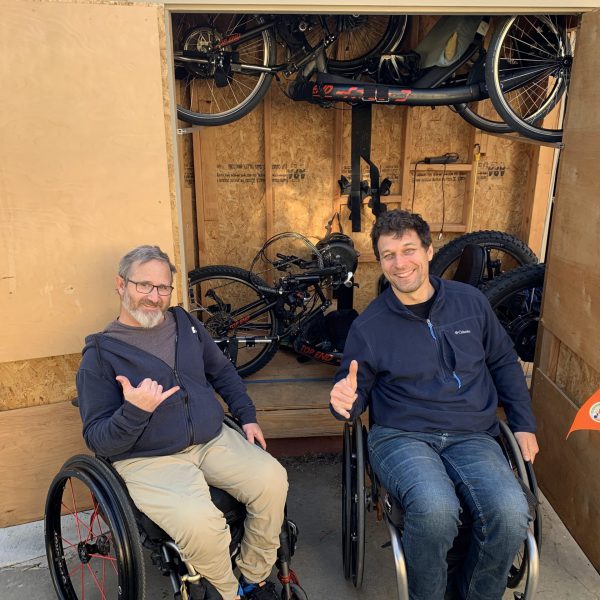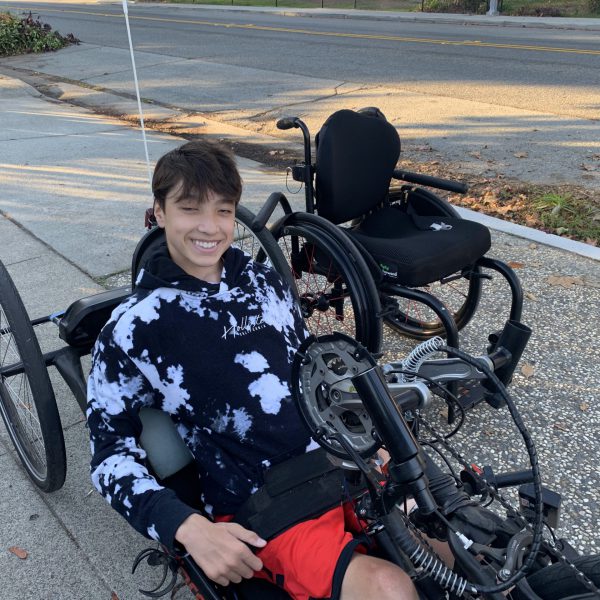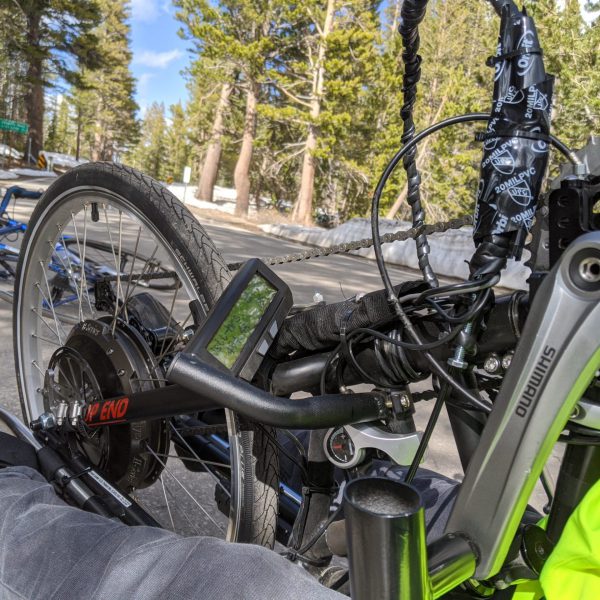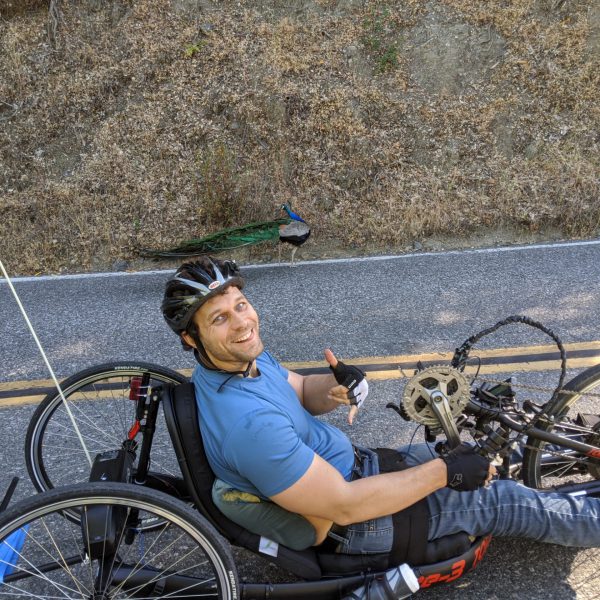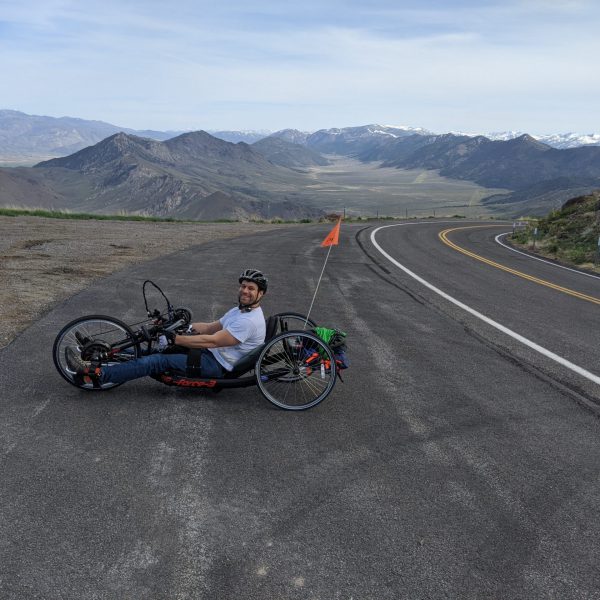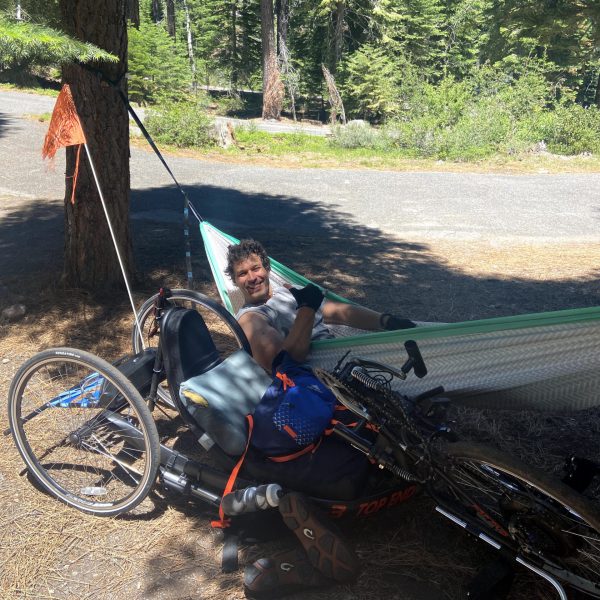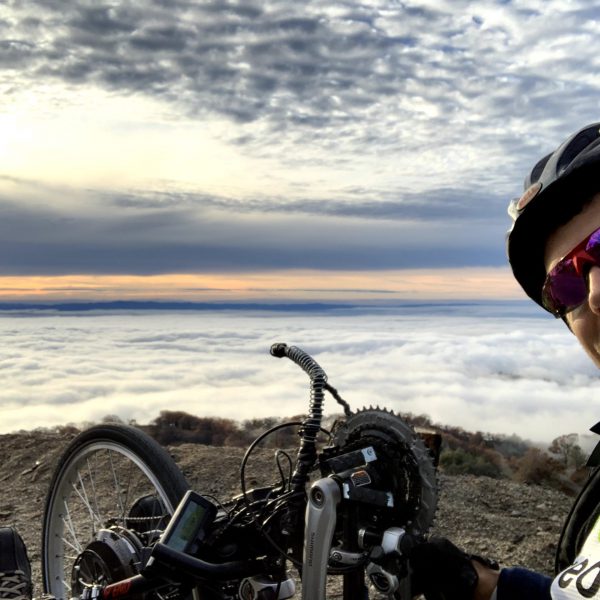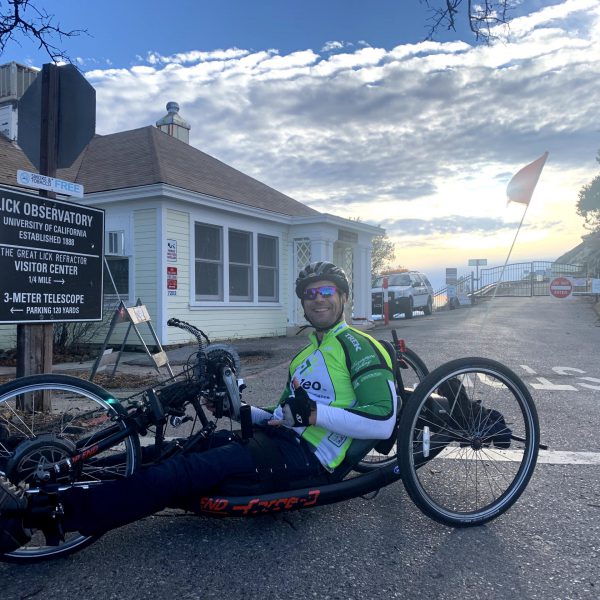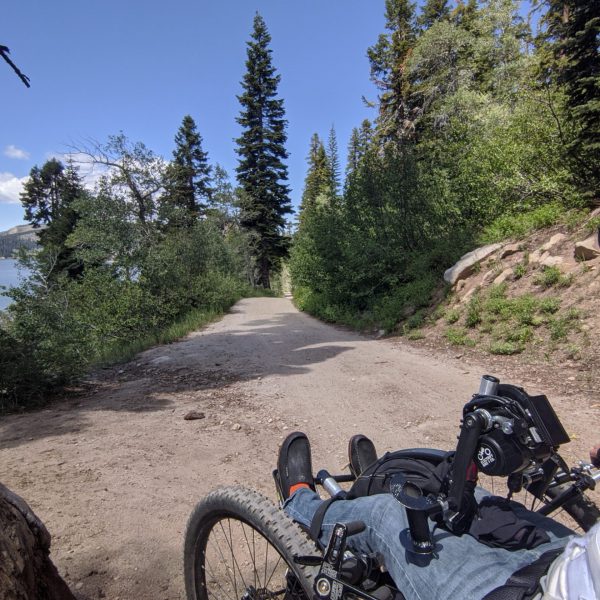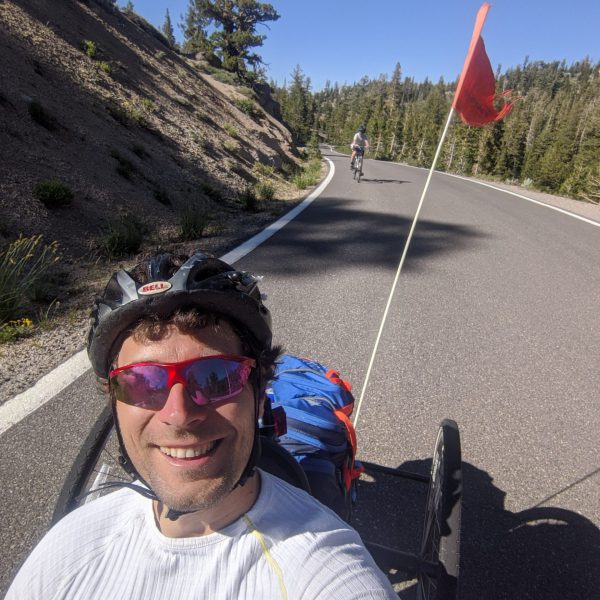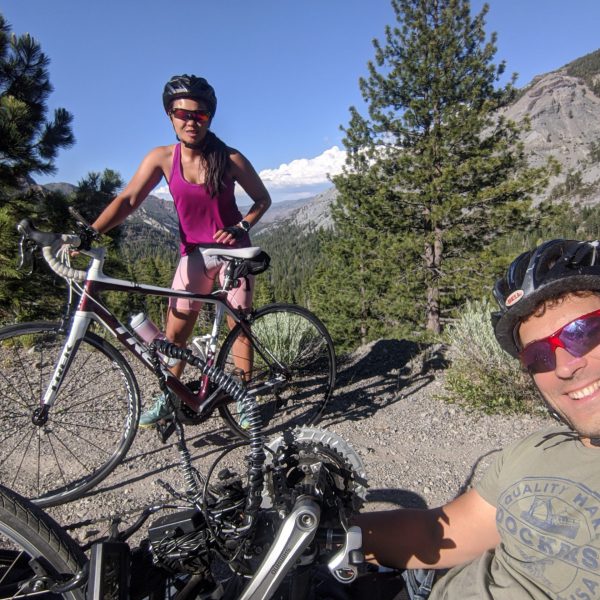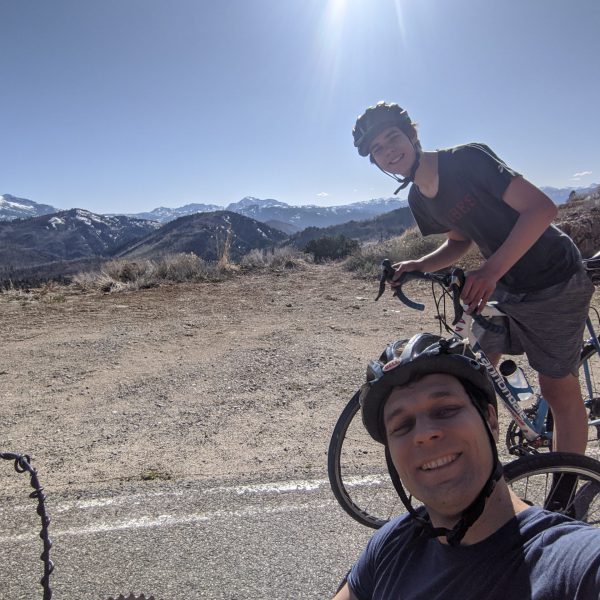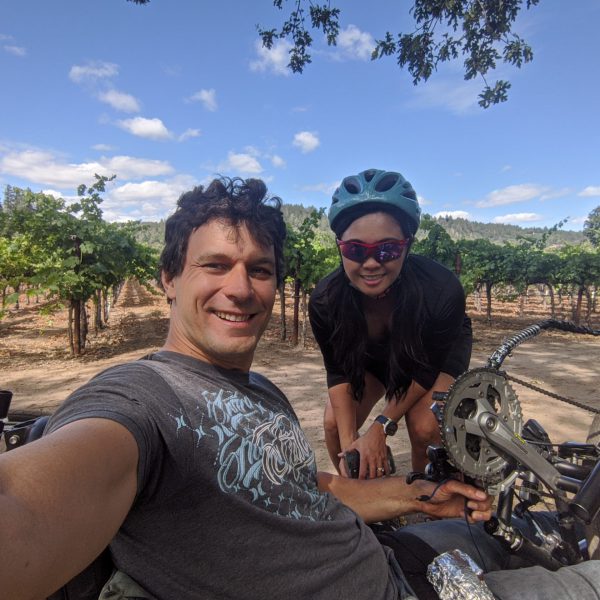 How To Build an E-Bike Handcycle
We have built three different types of bikes so far and have blog posts detailing each build with videos and parts lists. Keep in mind that this is at the moment a fairly rough (raw) collection of videos and links, but the hop is that we can work on making this content more digestible with the help of our community.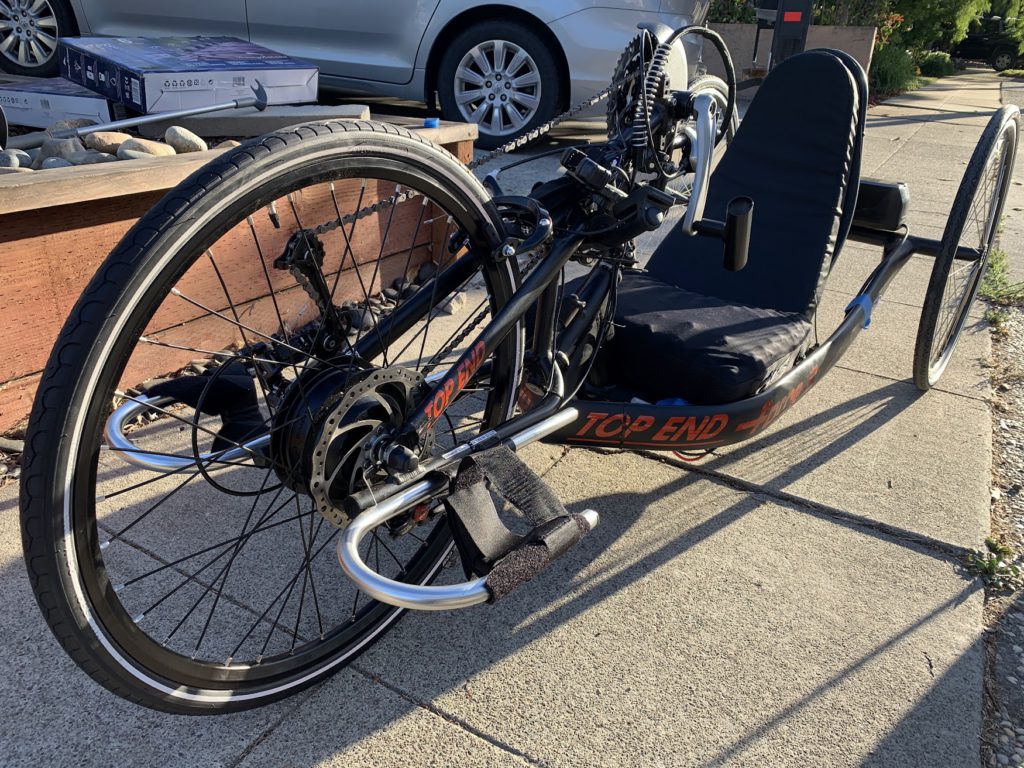 Bafang Front Wheel Drive
~$1,000
Excellent beginner bike. 
Easiest to build and operate.
The goal of this e-bike conversion was to minimize cost and deliver a bike that could be reproduced in Ukraine (project details).  This build is not only  less expensive, but a lot easier to put together and operate.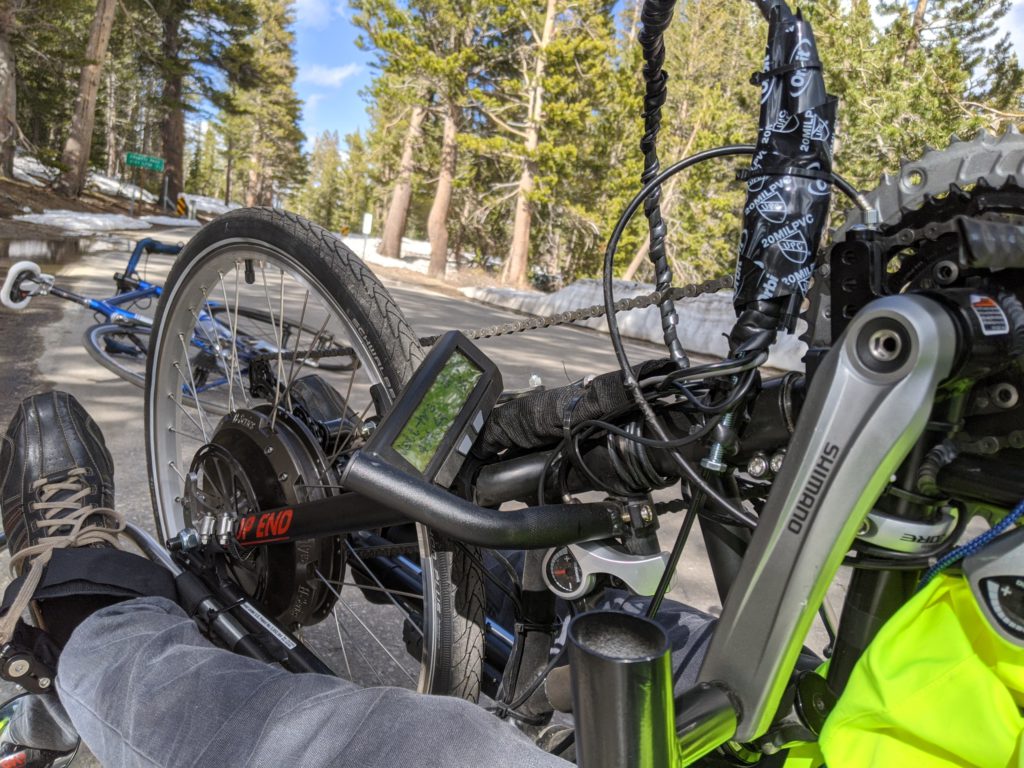 Direct Drive Front Wheel
~$2,500
Perfect road bike
Regen braking & great climber
This is a great option for someone interested in going on long road bike rides that may have some long climbs and descents. It is a lot simpler than building the all-wheel drive bike and will get you up and down most roads.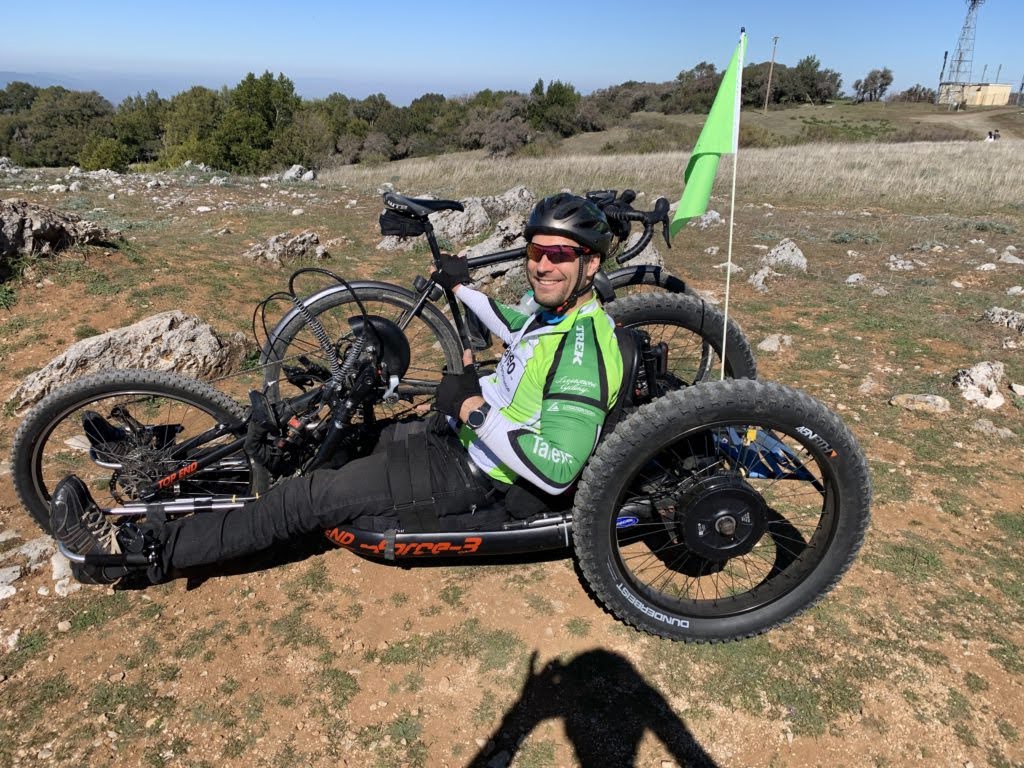 All Wheel Drive "Beast"
~$5,000
Off-road dream machine
Get off the paved roads!
This bike will ride up steep sandy fire roads and even snow covered ski slopes. It has two 1500W motors in the back and hand powered propulsion in the front, so is basically all wheel drive.
E-mail Us
ablebodied@norcalsci.org
Open Hours
Sundays by appointment only